1979 Mooney M20J "201" N4786H
Click a thumbnail for a larger image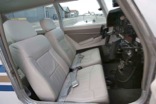 After several unproductive leads, I found this 1979 "201" at All American Aircraft in San Antonio, Texas. It needed some TLC, but a thorough inspection by a Mooney Service Center showed it to be a sound airplane. Since I expected this to be my last airplane, my plan was to make it into one which I would be exceedingly proud.

Over the next two years, I installed a completely new interior; reworked the instrument panel; upgraded the primary GPS to WAAS and installed a second GPS to receive XM weather. I installed a new windshield, shock discs, exhaust system, vacuum pump, ignition harness, oil separator and a new high torque starter. I had both fuel tanks resealed, installed new "CometFlash" wingtip strobes and finally had the airplane painted in a custom design at one of the best shops on the West Coast. In 2013 the engine and all of its accessories were overhauled, including the engine mount, oil cooler, prop governor and new baffling. The propeller was also overhauled which required two new blades. In 2014 I had a new instrument panel fabricated along with the installation of an Aspen PFD. As one might expect, the cost overrun was considerable; however I am very happy with the results and now have an airplane that should provide reliable transportation for as long as I expect to fly.

N4786H is a good looking airplane and economical to operate and maintain. It isn't the fastest bird in the sky, but I don't think a more efficient four-place standard category airplane has ever been built. Take a look at the sidebar graphic which shows the airplane cruising at 8,000 feet. 154 kts on 10 gal/hr isn't too shabby. If I reduce power to 55% and lean to peak EGT, I can fly all day at 140 kts on 8 gal/hr. This power setting gives the airplane an endurance of seven hours (plus reserve) and a range of over 800 nm. This is an incredibly flexible airplane.

The more I fly this airplane, the more I like it. The Aviation Consumer article in the sidebar examines the Mooney 201 in considerable detail. It also contains some good photos of my airplane before it was painted. The last M20J was built in 1998. Newer Mooneys have larger engines, are longer, faster, heavier and less efficient. For this reason, the "201" has maintained its value quite well compared to others in its class.