1960 Beechcraft 33 "Debonair" N622V
Click a thumbnail for a larger image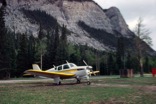 In February 1975 while returning from Texas in my green Citabria, I stopped for the night in Albuquerque. It was quite windy, so I made arrangements to put the airplane inside for the night. The next morning was overcast and still very windy with occasional snow flurries. The visibility was good however, so I decided to press on toward home. As I was helping move my airplane out of the large Cutter Beechcraft hangar, I noticed an early Beechcraft Debonair with a For Sale sign in a cabin window. What caught my eye was that it was polished aluminum. I had never seen a polished Beech 33 before, so I stopped to take a closer look. It appeared to be in original condition and was exceptionally clean inside and out. Wanting to get on my way, I didn't pay much more attention to it.

The ride westbound was terrible, with continuous moderate turbulence and a ground speed of only 60 mph. Trying to get to California under these conditions was out of the question, so I stopped in Gallup, NM. While sitting in the motel room watching the only TV station available, I began thinking about the little Beechcraft I had seen in ABQ and how much faster it would be than my current ride. I called a salesperson at Cutter and learned that the airplane was one of the first Model 33's built, that Cutter had sold it new to a local attorney and that it had been in their care ever since. It had less than 400 hours on the engine and the price was $15,000. I thought about that for a few more hours, then called them back and said I would take it.

As soon as I got home, I let it be known that my Citabria was for sale. It was gone within a week. Thus began a 19-year love affair with this little Beechcraft. I flew the airplane over 1,200 hours, during which time it carried me to the four corners of the U.S. and throughout much of Canada. It was one of the nicest flying airplanes I have ever flown, cruised at a reasonable speed, was very comfortable and exceptionally reliable. One of the saddest days of my life was when I sold the airplane in 1994.